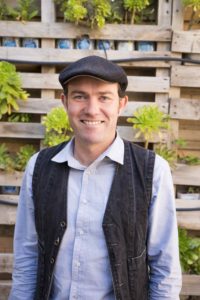 Ian McBurney – Chair
Ian McBurney is an ecological sustainability educator, entrepreneur, facilitator, speaker, MC and author.
His specialty is change practice: how do we inspire others around us?
Ian spent 5 years in the early 2000s at Vox Bandicoot in Melbourne, delivering the famous environmental theatre program to ten thousand students, workplace culture change training to six thousand staff in local government and manufacturing.
Ian was responsible for the expansion and delivery of the Sustainability Street Approach to over 40 local governments around Australia, and cofounded the Bendigo Sustainability Group in 2007, Bendigo – A Thinking City in 2012 and the Synergize CoWorking Hub in 2013. He published Talking ecoLogical in 2014. With his business Live ecoLogical, he has worked across health, manufacturing and social sectors, schools, state government and 60 local governments in four states and two countries.
You can find him on Twitter, Facebook, LinkedIn, or at www.ianmcburney.com
Scott Bryant
A recent addition to the sustainability scene in Bendigo, Scott found his way back to Australia in 2020 after a decade pushing on with the (ever too slow) renewable energy and circular economy transition in Europe.
"After squandering 40+ years of lead-time in defusing the climate crisis, this is the decisive decade for averting the worst of our growth-driven overconsumption. Whether we like it or not, communities are at the forefront of this crisis, and in the absence of adequate governmental action we've just got to get on with it and see what change we can affect through community owned and driven action," Scott said.
Scott joined the board of bHive in late 2021.
"bHive and the Villages platform represents a real opportunity to empower local communities to connect and share amongst themselves and ultimately build a more interconnected community. The opportunity to lend some of my circular economy expertise to help build a great community-owned initiative that seeks to reduce consumption and keep the benefits amongst the community is really exciting. What's more, the chance to work with and learn from my fellow Board Members who've all been pushing for sustainable change across a range of fields is a real privilege," he added.
Kathryn Stanislawski
Kathryn has been active in her community through local kinder and school committees, finding fulfilment from creating connections and friendships with new people and advocating to achieve bigger outcomes.
Kathryn joined the Board of bHive in 2021.
"I'm fortunate that my work has helped me develop project management skills that I can apply to anything, plus, I'm not very good at sitting around waiting for change to happen – I think we need to be part of it and I personally want to set a good example for my kids," Kathryn said.
"The purpose of bHive absolutely fits within my personal values so I was pretty pleased to be accepted to a position on the Board. Plus, the other Board members have such a wide range of experiences too, so I'm really looking forward to learning from them as well. I really can't wait to see how we can continue to develop bHive and the Villages Platform together," Kathryn added.
Darrin Ray
Darrin has been active in the not-for-profit, government and sustainability fields for over 35 years. He has been an elected Mayor and Councillor and Senior Officer in Local Government.
Darrin joined the Board of bHive in 2021 and is currently bHive's Secretary.
"I'm a strong believe that communities should be in control of their own destinies. I've been an advocate and lobbyist for many causes including social housing and LGBTIQA+ rights. I also believe people will embrace change faster than government, and we can help each other be at our best," Darrin said.
"I see the sharing economy and the potential of bHive to provide social and environmental justice in a world where corporations stop putting people, place and the planet last and profits first. I love bHive's objectives and the good will that's present within bHive and among our wider group of supporters. I can't wait to see our sharing initiatives rolled out in Bendigo and perhaps even across Australia one day," Darrin added
Paul Mac
Paul brings a wealth of marketing, technology and governance skills gained from more than 30 years of executive level experience with Information Technology related businesses. Paul has a strong entrepreneurial spirit with expertise in business development, operations development, change management, and project management.
Paul also has a long history of serving on community and business Boards, and also currently sits on the Board of CVGT Employment.
Paul joined the Board in 2020 and is currently bHive's Treasurer.
"I found myself compelled to join the bHive project for several reasons: one being the evident absence of moral standards in many large tech corporations, and another being my personal aspiration to contribute towards making the world a better place," Paul said.
"In my view, bHive represents a promising platform that can actively play a role in achieving these objectives," he added.